Community Highlight
Women of Webster Five: Shoba V.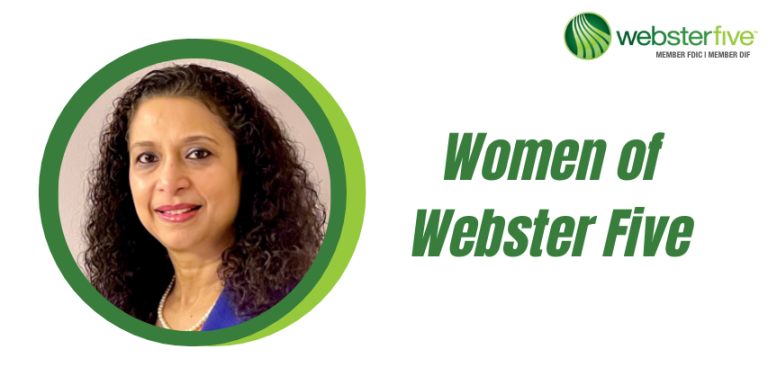 Webster Five is celebrating Women's History Month by highlighting some of the incredible women who make up our bank! Our next spotlight is Shoba V. in Retail Banking.
How did you first get into the banking industry?
I came to the United States after completing my college education in India. I started my career as an educator at a Montessori school in Louisiana, and, after moving to Massachusetts, I worked in the public school system for a few years.
One day while conducting transactions at our local bank, I happened to notice that they were looking for help and offered mother's hours. I decided to give that a try as it gave me an option to be with my children when they were growing up. That was the start of my banking career.
Why did you choose Webster Five?
Prior to Webster Five, I was working as a corporate trainer for a mortgage company. Recently due to the rapid rise in interest rates, there was uncertainty in that industry. So, I started looking for an opportunity that would allow me to work within the community and make a greater impact. I chose Webster Five because of the values that the bank stands for as a leading community bank.
Why do you choose to stay in your field?
After spending some time in various roles in the banking industry, I developed a keen interest for the financial world. Although I had transitioned to the banking industry, my passion for teaching was still very strong. As Tony Robbins says, "energy flows where attention goes." There was an internal opening for a training specialist, and I was quick to apply for that position. As a trainer, I was able to combine my passion for education and knowledge of the finance industry in my new role. Even during the pandemic, I was able to effectively continue my work as a corporate trainer by using several communication platforms.
What advice would you give to women looking to break into male-dominated fields?
Though there has been a steady increase of women entering the male-dominated STEM field, there is more to be done in closing the gender gap within the finance industry. Being a woman in this field, a few things that have helped me include reading books on leadership, listening to self-development podcasts, and associating with successful individuals. My recommendation for women would be to work on developing self-confidence and training their mind to achieve great things.
See Related Posts
popular articles
Categories
Search With Tags