Mortgage Process: Simple Steps to Get Your Home
Webster Five has the people and processes in place to help you close on your home well within your timetable. Prior to finding your home, we encourage you to meet with a Webster Five loan officer to explore the best mortgage solution for you. Below are the steps and the typical schedule you can expect.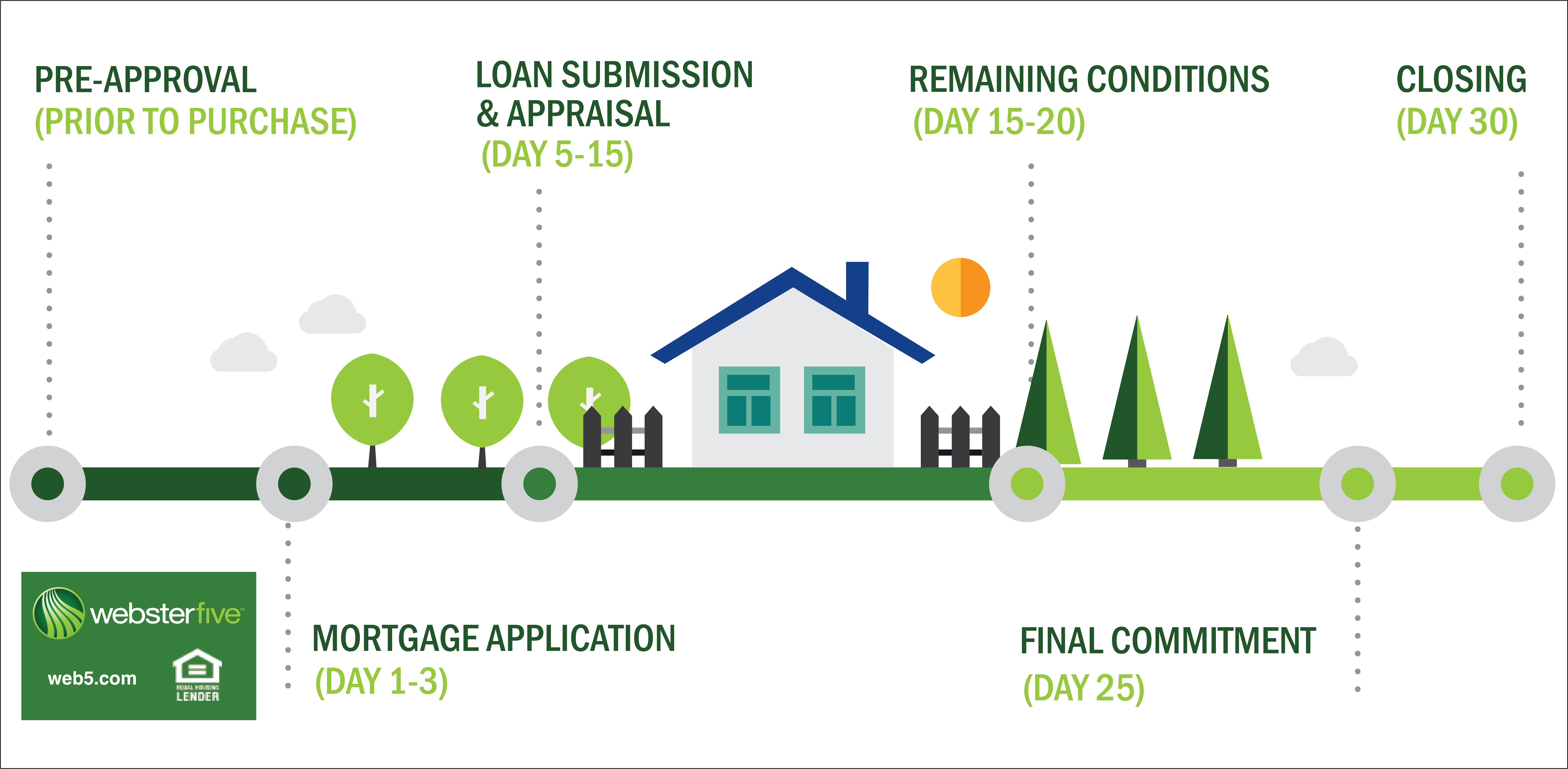 *This timeline is not a guarantee and is subject to change.
Mortgage application process & buying a home
Pre-approval (prior to purchase):
This first step helps you determine how much you can borrow based on your income, credit score and other factors. It also shows real estate agents that you are a qualified buyer. A simple application and a few documents are all it takes.
Mortgage application (day 1-3):
Once you have found a home and the seller has accepted your offer, your Webster Five loan originator will review your mortgage options with you and then prepare an application and disclosure package for you to review and sign. You will be asked to acknowledge receipt of your Loan Estimate (LE) and disclosure package.
Loan submission & appraisal (day 5-15):
Upon receipt of your application, supporting documents, and appraisal fee, your loan will be prepared and submitted to underwriting. We will have the property appraised by an independent, third-party appraiser who will confirm the fair market value of the home.
Remaining conditions (day 15-20):
Upon review of your application and appraisal by our underwriters, you will be informed of additional conditions or documents for your loan to be finalized. Final items/documents are supplied by you to clear all underwriting conditions.
Final commitment (day 25):
Congratulations, your loan has been approved and you will be contacted by your Webster Five loan originator to finalize your application and acknowledge receipt of your closing date. The next step is for you to consult your attorney and/or realtor to finalize your homeowners insurance and confirm the closing date.
Closing (day 30):
The closing is the last step in getting your mortgage and becoming the owner of your new home. At this time, you will pay closing costs, such as underwriting fees, appraisal fees and other expenses related to your transaction.