Managing your account
Your way of living is our way of banking. So Webster Five lets you customize our services around the way you prefer to bank and monitor your activity.
Digital banking
Our bank is always open with digital banking. You can access your account information 24/7 to transfer funds, obtain account statement information, view and download check images, and much more—all from the comfort and security of your office or home.
To sign up for digital banking, call 800-696-9401 or visit one of our convenient branch locations. Already a customer, visit the homepage and in the login box, select "Register" to self-enroll.
Mobile banking
If you're on the road or out of town, just connect with our mobile banking to do virtually everything our online banking allows from your phone or other mobile device. To connect with mobile banking, simply download the Webster Five mobile app from your app store or from your phone's browser.
Android:

iPhone:

iPad:

Bank by phone
Call our 24/7 telephone banking to check balances, transfer funds or listen to your transaction history:
Our Contact Center has representatives available to answer questions during normal business hours:
Mon – Fri 8:00 AM – 6:00 PM, Sat 8:00 AM – 1:00 PM
For Business, Lending and Investment Services, find phone numbers and hours here.
Branch Services
Our convenient branch locations are open for business and offer the following services:
Wire transfers
Money orders
Cashier's checks
Notary services
Coin counting
Safe deposit boxes
Medallion Signature Guarantee
To learn more about our branch services, click here.
Routing Number
Webster Five's routing number is 211372857. Your routing number and account number can be found along the bottom of your current checks, see example below.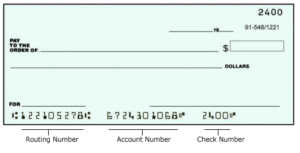 Overdraft protection
Sometimes it's easy to forget your checking account balance. Webster Five offers several options to protect you from bouncing checks, having your debit card declined and incurring expenses associated with inadvertently overdrawing your account.
Our overdraft protection personal line of credit links to your Webster Five checking account and will automatically cover overdrafts, up to an approved dollar amount. You will receive a statement each month with your balance due. Contact your local branch office for current rate information. You can apply online or at one of our convenient branch offices.
Overdraft transfer from savings allows you the convenience of linking your Webster Five savings account to cover items that may overdraw your checking account. To sign up for overdraft transfer, call 800-696-9401 or visit one of our convenient branch offices. See current fee schedule for associated fees.
eStatements
By using eStatements instead of paper statements, you can view your statements online at anytime, anywhere—which is a great way to lower your risk of identity theft, reduce clutter and help protect the environment. Best of all, eStatements are available at no charge to you.
To sign up, you must first be set up for digital banking. Once you are logged in, select the "eStatement" option to enroll. Once signed up, you'll be notified by email when your account statement is ready to view online.
Swipe&Save
Why not save a little at a time? With our free Swipe&Save service, whenever you use your debit card for a purchase, the transaction is rounded up to the nearest dollar and the difference is automatically transferred into your savings account. Over time, these incremental transfers add up to big savings, with no effort on your part. To sign up for Swipe&Save, call 800-696-9401 or visit one of our convenient branch offices.
Debit card activation or lost/stolen card
Shortly after opening your account, you will receive your Webster Five debit card by mail. To activate it, simply call 866-642-0450.
To report a lost or stolen card, call 800-696-9401 during business hours or 800-528-2273 after hours.
Dispute a transaction
It is best to review your bank statements on a regular basis. If you have any questions about a transaction on your account, you should inform Webster Five as soon as possible. Call 800-696-9401 or visit one of our convenient branch offices if you have any questions about a transaction on your bank account.
Stop payments
Need to stop payment on a check that was issued? No problem. Call 800-696-9401 or visit one of our convenient branch offices to place a stop payment. You'll need the account number, check number, payee, check amount and issue date.
Address change
Have you recently moved? Let us know so we can keep you informed about your account. Having the most up-to-date address on file will ensure no disruptions in bank correspondence regarding your account. To change your address, simply log in to digital banking and click the icon in the top right hand corner then chose "Profile". Or stop by any of our convenient branch offices.