Personal Finance
Talking to your children about money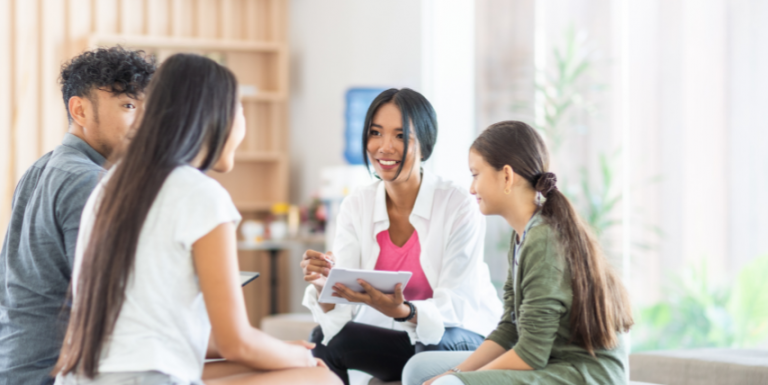 Get an early start on teaching your kids the value of money.
Your kids go to school to learn grammar, multiplication tables, and history. But what about their financial education? As a parent, you play a crucial role in your children's education, and one area to focus on is teaching your children about money.
The apple doesn't fall far…
You probably know that children are excellent at the art of observation. Just as young children readily imitate words and gestures, older children are bound to pick up your financial behavior. So a good first step in teaching your children about money is to make an effort to handle your money in a way you'd like them to copy. If your life shows that financial security comes from hard work, and that responsible spending is the result of thought and care, not impulse, your children will be more likely to take what you say about money seriously. Some parents even involve their children in managing the family's finances, so the children know how much money is coming in every month, how it is being spent, and what financial choices have to be made. Their views on what's important may even help you revise your financial priorities.
Start young
Letting kids make decisions about money at an early age can help them understand the concepts of earning, spending, saving, and investing. You can start these lessons by creating a mini budget with your children.
Start with two spending lists: one for essentials and the other for non­essentials. In the essentials category, you might include expenses like lunch money and clothing. In the non-essentials category, you can place anything that your children like to spend money on, such as snacks, comic books, or name-brand shoes or other clothing. Then, you can agree on a weekly or monthly allowance that covers the essential expenses and a fair amount of the nonessential expenses. That way, your children will have an allowance that helps them understand the difference between necessities and extras at an early age.
An alternate to spending
Once you've established an allowance with your children, you can teach them an important lesson about saving. Try including a percentage for saving in the essentials list to show that planning for the future is a necessity if they want to be able to do the things they love.
And if your children have money left over at the end of a week, you can discuss the alternatives of spending it now on something they want, adding it to the savings account toward the purchase of a more expensive item, or spending it later on something they really want.
Many banks offer children's accounts that don't charge service fees for small balances. You can start your children off by opening an account with an amount you choose, and encourage them to add to it regularly. You might even add a savings bonus, matching any amount they put into the savings account.
If your children are working, and you can manage it financially, you might encourage them to set up an individual retirement account (IRA) and make a gift of the money they deposit. The maximum deposit is 100% of earned income up to the annual limit. In 2022, it's $6,000. This gift can help them gain an understanding of the value you put on saving and investing money.
Taking care of business
As your children get older, they may want to get jobs. Here are some reasons why getting a job can benefit your kids:
A job can help your children learn what it feels like to earn money, not just receive it
Your children can learn about the taxes taken out of a paycheck
A job is a way for your children to excel in a certain area
Working can boost self-confidence and help pave the way to a successful career
Investing 101
To help your children learn about investing, you can find a company that your children know and would enjoy following. Then, invest in a few shares of stock, reinvest any dividends the stock pays, and track the performance of those stocks with your children.
RESOURCES

Your family can learn more about money at these websites.

Check out www.bizkids.com for videos, games, and lesson plans on a wide range of financial topics from saving and credit to fundraising. There's a section on starting a business for budding entrepreneurs and a blog that addresses a variety of topics including talking to your kids about money.

Jump$tart Coalition brings together organizations that want to improve kids' financial literacy. It's a great resource for information about what's available. To access its links page, go to https://jumpstartclearinghouse.org/.
This information is provided with the understanding that the authors and publishers are not engaged in rendering financial, accounting or legal advice, and they assume no legal responsibility for the completeness or accuracy of the contents. Some charts and graphs have been edited for illustrative purposes. The text is based on information available at time of publication. Readers should consult a financial professional about their own situation before acting on any information.
See Related Posts
popular articles
Categories
Search With Tags