Community Highlight
Women of Webster Five: Helen G.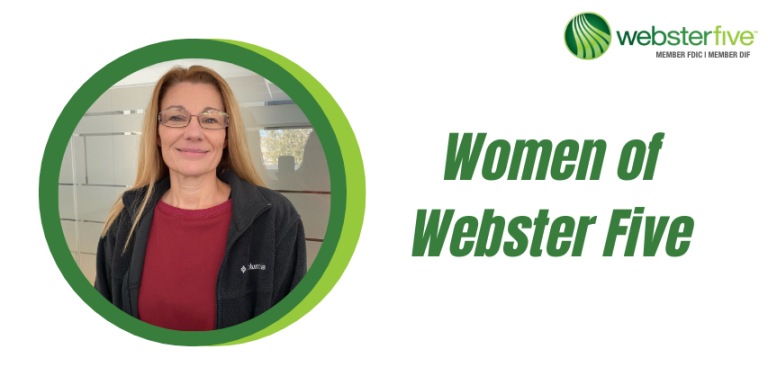 Webster Five is celebrating Women's History Month by highlighting some of the incredible women who make up our bank! Our first spotlight is Helen G. in our Customer Contact Center.
How did you first get into the banking industry?
As a small business owner for many years, I felt that this would be a great second career opportunity for me to explore.  Early on running my business, I learned the fundamentals of banking: for example credit card processing, accounts receivable and payable, as well as cash flow management.  I developed a strong relationship with my banker over the years and knew that, with my background, I would enjoy the banking business too.
Why did you choose Webster Five?
This was an easy decision for me, I have been a long time customer of Webster Five, both for personal and business accounts, and my family banks at Webster Five, too. Over the years I have met and built strong relationships with many of the employees at Webster Five, and they shared that they enjoy working for the bank.  When I made the decision to make the move to another career, it was an easy decision for me to go to a bank where I knew my skills and ability to provide exceptional experiences for our customers was as important to the bank as it was to me.
Why do you choose to stay in your field?
I truly enjoy assisting our customers and providing the best customer service experience. It is also very clear that the bank understands and recognizes the importance of creating an environment where I can bring value and continue to build my skills.  Over my time at the Contact Center, bank leadership has recognized my abilities and provided me with new opportunities to build upon my skills. As a result, I continue to want to arrive to work each day excited to contribute and provide great service.  I will add, over time as the bank introduced new systems and other technologies, I have also enjoyed helping our customers understand how to use our services and the occasional problem solving that goes along with it.
What advice would you give to women looking to break into male-dominated fields?
I am a strong believer that woman can achieve any goals they strive for!
See Related Posts
popular articles
Categories
Search With Tags