Personal Loans
Student Loan Breakdown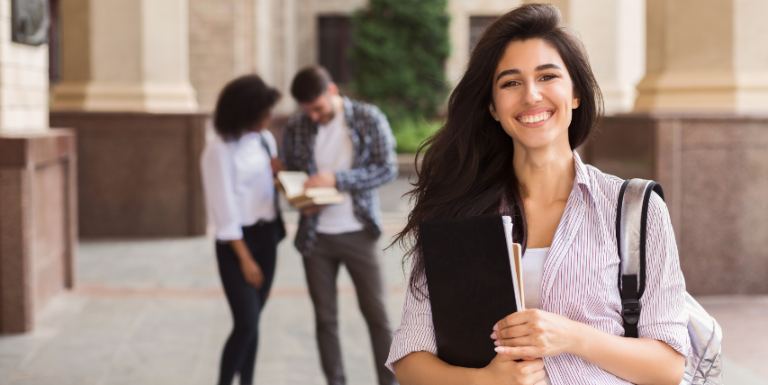 Financial aid can add major stress to your life. First you worry about getting enough. Then you worry about paying it back. Not all of it, of course—just the loans. But that could be a crazy amount to manage on a starting salary.
Unless you have a full scholarship or a grant that covers all your needs for all four years, you'll have to reapply for financial aid each year. That means filling out the FAFSA and any additional forms your school requires. It's best to complete the forms as soon as you can. That way you won't risk missing a deadline and losing out on aid you could have received.
Investigate what's available each year and then find out if you're eligible. If you are, go for it.
Federal loans
With federal Direct Loans, you apply for and take a new loan each year, often at a different interest rate than your previous loan or loans. The same process applies for a federal Perkins loan, if your school participates in that program—though the rate on a Perkins stays the same.
The only thing that changes with Direct Loans, other than the rate, is that you can borrow slightly more in your junior and senior years than you can for the first two.
If you don't choose a plan, you'll be assigned to the standard plan—even if that might require a payment that's too large for you to handle. So be sure to get in touch with your loan servicer to make the best choice for you.
There are ways to reduce the total you owe, from a tiny percentage as a reward for scheduling electronic payments to potentially significant amounts if you work for ten years in a qualifying occupation. Any reduction in what you'll owe is a step in the right direction.
Heads Up: Most private loans can be expensive. Repayment policies may offer less flexibility than you need. Many require a co-signer who's obligated to repay if you don't. If your financial aid package, including federal loans, isn't enough, you might want to rethink your plans before you take a private loan to make up the difference.
Loan repayment
The reality of loans is that you have to pay them back, starting six months after you graduate in the case of Direct Loans. Another catch? If you drop out of school or are enrolled less than half-time, the repayment clock starts ticking immediately. Unless you re-enroll at least half-time within the six month grace period, you must begin to pay.
What you owe will depend on the amount you've borrowed, the interest rate or rates that apply to those balances, and the repayment plan you choose. There are seven options, including the standard plan, an extended plan, a graduated plan, and four plans where your payment amounts depend on your income combined with other factors such as family size and where you live.
How does financial aid work?
Knowing how to navigate the process—and staying on top of all the details about your aid—can help make getting money to pay for school smooth sailing.
When you fill out the FAFSA, you get to choose up to 10 schools to receive your application. You'll want to contact each school's financial aid office to confirm you're interested and find out what else you need to do. Some may want you to fill out a separate aid application or have specific cut-off dates. Each school has the opportunity to make you an offer. Once you receive all of the offers, around the time you get acceptance letters, it's time to weigh your options.
Take the free money first. Then the money you earn (as in a work-study). Then take loans with flexible terms and a choice of repayment plans. That would be federal Direct Loans and loans from your college or university—provided the rates and terms are acceptable to you. In final place are private loans, if they're absolutely necessary.
Getting the money
The way your financial aid gets paid has to do with what type of aid it is. For example, a loan payment is different than a payment that you get for doing a work-study program.
Usually, you get your financial aid loan money in at least two payments, called disbursements. Often, the payments are tied to the school calendar. So you'll receive a disbursement every trimester or semester. You should get a written confirmation from your school's Financial Aid office each time a disbursement is made.
Money goes first towards paying for the basics: tuition, related fees, and room and board (unless you live off campus). If there's any money left over, it will be paid to you. It's often a good idea to return any portion of the loan that you don't need for school, or have it credited to the next term's bill so you're not tempted to buy other things with it.
Understanding your loan
It's essential to be familiar with the terms of your financial aid, including:
What you are borrowing
What you will need to repay, and when
Who the loan servicer is (also called the loan holder)
Who the loan guarantor is, if there is one
One reason it gets so complicated is that you're not taking just one loan to cover all four years: You take a new one every year. The amounts might change since the cost of attendance is likely to change, as is the interest rate. And the aid your school offers you can change too.
Just like with most other money matters, if you are confused or find yourself in trouble, don't ignore or postpone. Ask for help. Make an appointment with the Financial Aid office at your school. You can also go to the National Student Loan Data System (NSLDS) website and set up an account, or call the Federal Student Aid Information Center at 800-4-FED-AID.
Three parts of a loan
What you are borrowing includes 3 things: the principal (the amount you borrow) the term (the length of time the loan lasts), and the interest rate (or the percentage of the principal you pay to borrow). With Direct federal and most private loans there's also an annual fee for borrowing the money.
Student loan scams
You know the rules for avoiding scams and identity theft in everyday life—don't give out your personal and credit card information, don't believe offers that are too good to be true, don't be pressured into purchasing or signing an agreement.
Same's true here. There are companies that offer to help you find scholarships, fill out applications, get free financial aid money, and even help get you out of having to pay back your loans. At best, they're charging you for services that are actually free. At worst, they are stealing your credit card and other personal information to use for their own gain.
Be especially aware of companies that claim to help reduce what you owe on your loans, or promise to have your loans forgiven. And if a company says it will consolidate your loans so you make only one payment, forget it. You can consolidate Direct federal loans for free through the US Department of Education.
Student loan terms

Cost of attendance (COA)
Cost of attendance (COA) is an average cost that represents both the direct and indirect expenses of attending school over a given period of time. It's calculated by the school and includes tuition, fees, room and board, and allowances for books, supplies, transportation, loan fees, and some personal expenses. If you don't live on campus, an amount for housing and food replaces the amount for room and board. Your COA helps to determine how much you are eligible to borrow.

Deferment
A deferment temporarily suspends your federal student loan repayments. You may qualify if you are unemployed, are having certain other economic hardships, are returning to school at least half-time, or are on active or post-active military duty.

If the deferral is granted and you're enrolled at least half-time or on qualifying military duty, there is no time limit on a deferment. In other cases, you can defer payments for up to a total of three years.

Delinquency vs default
When you fail to make a payment on your loan by the due date, you are considered delinquent on the loan. When you have been delinquent about making payment for nine months, you are considered in default. Once you are in default, the entire loan balance becomes due.

Forbearance
Forbearance lets you temporarily postpone repayment of your federal student loans, reduce the amount of each payment, or extend the repayment period. Forbearance requests are granted for a 12 month period and may be extended at expiration, for a total of three years.

Grace period
With a federal student loan, the grace period is the amount of time between the date you graduate or fail to enroll at least half-time and the date your first loan repayment is due.

Master promissory note (MPN)
A master promissory note is a legal agreement between you and your lender. By signing it, you agree to repay what you borrow. The note explains your rights and responsibilities as a borrower, how interest on your loan is calculated, and how you repay. Once you sign the MPN for a direct federal loan it covers new loans for 10 years.
This information is provided with the understanding that the authors and publishers are not engaged in rendering financial, accounting or legal advice, and they assume no legal responsibility for the completeness or accuracy of the contents. Some charts and graphs have been edited for illustrative purposes. The text is based on information available at time of publication. Readers should consult a financial professional about their own situation before acting on any information.
See Related Posts
popular articles
Categories
Search With Tags