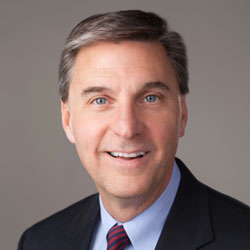 A 37-year veteran to the banking industry, Don recognizes that the success of the bank is dependent on the prosperity of our community. His dedication to Webster Five's unrivaled reputation for exceptional service and community caring has allowed him to develop a long view of business from which to keep growing. Don's commitment to employees and the needs of our diverse community inspires him to embrace innovation and look to the future while staying true to our culture. Don joined Webster Five in 2004 as the Division Manager of the Business Banking team. He was promoted to Senior Loan Officer in 2006 and became President/CEO in 2016. Don's career began at Mechanics Bank, Bank of Boston and Flagship Bank in a variety of positions, from Commercial Loan Officer to Commercial Group Leader. With his passion and prior experience, Don is poised to lead Webster Five well into the future. Don earned his BBA in finance from University of Massachusetts, Amherst, and his MBA from Suffolk University.
Don talks about his role in the bank and life outside the bank.
What are you passionate about in your role? As a manager, I enjoy supporting my team of employees and our successes. I take pride in recognizing the potential in others and helping them achieve their goals. I am passionate about our diverse community and the opportunity we have, as a bank, to support everyone's financial needs.
What are some of your hobbies and interests? Golf, travel, hiking and reading, and I am an avid sports fan.
Are you involved in any community causes or organizations? I currently serve on the Boards of: Open Sky Community Services, Worcester Chamber of Commerce, Worcester Regional Research Bureau and the Worcester Business Development Corp. I am also a Corporator of the Greater Worcester Community Foundation.
Can you tell us a fun fact about yourself? I love the coast, especially the beaches at the National Sea Shore on Cape Cod.