Webster Five Donates $5,000 to Auburn Youth and Family Services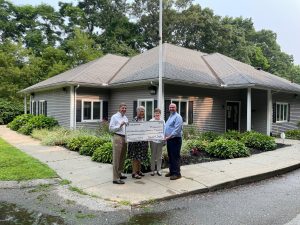 (July 29, 2021) Webster, MA – The Webster Five Foundation has announced that as part of the Web of Caring to Make a Difference program, it has donated $5,000 to Auburn Youth and Family Services (AYFS). The donation will help fund the support programs and services AYFS offers year-round, including counseling, tutoring, advocacy, information and referral, after-school and summer youth programs, support groups for children, teens and parents, a food pantry and clothing closet to those who live in the town of Auburn and surrounding communities.
The mission of AYFS is to support families through empowerment and community collaboration. The organization has been involved in direct service delivery since their inception in 1976 focusing on substance abuse prevention. Their ongoing programming continues to prepare local children and youth for successful futures and support their success through family engagement. In the COVID 19 pandemic, AYFS expanded their programming to support the community through establishing an emergency food pantry onsite and has been actively working with families to access critical resources, support and services with their partner agencies during these unprecedented times.
Donald F. Doyle, President and Chief Executive Officer of Webster Five, stated, "The programs and services provided by AYFS make such a positive impact on local residents' quality of life and we are honored to contribute to an organization that is making a significant difference. AYFS has stepped up for the local community in a major way to respond to the changing needs of the people they are committed to serve during these unprecedented times and beyond."
Executive Director, Sally D'Arcangelo said, "We are incredibly thankful for Webster Five's generosity. This donation helps enable us to provide quality services to those in need, in order to improve the overall well-being for residents of the Auburn community. On average AYFS serves 82 households and 178 people on a monthly basis, and this donation will make a difference in how we're able to support their individual and collective needs."