The Webster Five Foundation announces donation to the Thompson Ecumenical Empowerment Group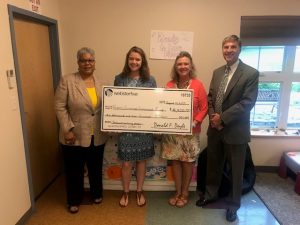 August, 2019– The Webster Five Foundation has announced that as part of the Web of Caring to Make a Difference program, it will donate $2,200 to Thompson Ecumenical Empowerment Group. The donation will help support the group's adolescent mentoring programs in 2019.
The Thompson Ecumenical Empowerment Group has been working to meet the needs of low income individuals and families since its inception in 1988. They offer basic needs programs including emergency and ongoing food assistance, heating assistance, adolescent mentoring, back to school backpack assistance, state and federal benefits assistance, Gamblers Anonymous, holiday giving, homelessness support, and general case management. The group has long standing relationships with local Connecticut schools and works closely with them together to provide mentoring and other youth programs to students.
Donald F. Doyle, President and Chief Executive Officer of Webster Five, stated, "We are pleased to support the Thompson Ecumenical Empowerment Group's mission to provide quality mentorship interactions that will help local children achieve greater academic gains and developmental strides."
Anne Miller, Thompson Ecumenical Empowerment Group's Executive Director, said, "We are grateful for Webster Five's generosity and their commitment to helping us make instrumental and positive impacts on the life courses of at-risk adolescents in need of support and care."