Supporting Expansion of New Webster Library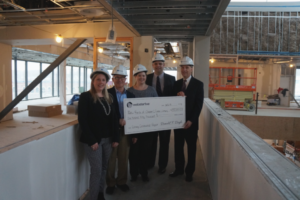 In the photo from left to right: Holly Deslauriers – AVP Marketing Manager, Webster Five; Tom Klebart – Executive Director, Friends of the Chester C. Corbin Library; Amanda Grenier – Webster Librarian; Sam Bitar – VP Business Systems Manager/Foundation Executive Director, Webster Five; Don Doyle – President/CEO, Webster Five
In the photo from left to right: Holly Deslauriers – AVP Marketing Manager, Webster Five; Tom Klebart – Executive Director, Friends of the Chester C. Corbin Library; Amanda Grenier – Webster Librarian; Sam Bitar – VP Business Systems Manager/Foundation Executive Director, Webster Five; Don Doyle – President/CEO, Webster FiveThe Webster Five Foundation has announced that as part of the Web of Caring to Make a Difference program, it will donate $150,000 to Friends of the Chester C. Corbin Library Inc. The donation will be used for building enhancements and to provide additional services to Webster's new Gladys E. Kelly Library.
Friends of the Chester C. Corbin Library Inc. provides volunteer and financial support to the Webster Public Library, aiming to foster public interest and provide financial aid for special library programming outside of Webster's annual library budget.
The new library space is designed to accommodate the needs of every library patron, from young children to adults and seniors. The goal is to be an information center, as well as a community center, for lifelong learning, with the addition of enhanced media technology, internet access and community meeting rooms. In recognition of the donation, the library's children's activity room will be named Webster Five Children's Activity Room, where children can enjoy craft-making, story time and special programs.
Friends of the Chester C. Corbin Library Inc. Executive Director Thomas T. Klebart said, "We are especially thankful for Webster Five's donation to the new library because of its long-standing history within the town. The funds received will play a large role in providing improvements to the building and library services."
About Web of Caring to Make a Difference
Web of Caring to Make a Difference is a bank-wide community program created by Webster Five as a tangible means for the bank as an organization and its employees as individuals to make a positive impact by supporting local organizations that also are making a difference. Through the Webster Five Foundation, the program has donated more than $2 million dollars to various local nonprofit organizations for programs that support expanding and improving access to education, culture and the arts, social services, charitable activities and community development. Requests for funding through the Webster Five Foundation are reviewed by the board of directors and are awarded to established 501(c)(3) organizations in the above sectors that qualify.