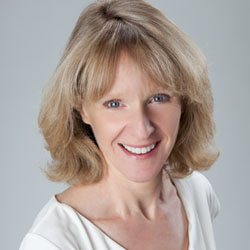 A bank is only as good as the talent it acquires and retains. Terri takes this truth to heart as she recruits the best bankers from around New England while developing internal programs to foster the success and happiness of our employees. Her expertise in workforce planning and acquisition, training, employee engagement, and culture and change management has been pivotal in the growth of Webster Five. Terri was senior vice president/director of Human Resources at RiverBank for five years until it was acquired by People's United in 2010. She served as an HR consultant to People's United before joining Webster Five in 2011 as part of our senior management team. Throughout her career, Terri earned a Senior Professional in Human Resources (SPHR) certification and a Senior Certified Professional (SHRM-SCP) certification that get recertified every few years. Her education includes a BA from Boston University and an MBA from Bentley University.
Terri talks about her role in the bank and life outside the bank.
What are you passionate about in your role? I am passionate about diversity, equity, inclusion and belonging, continuous learning and development, and making a difference.
What are some of your hobbies and interests? I love getting outdoors, especially hiking.
Are you involved in any community causes or organizations? I am a board member at Employers Against Domestic Violence. EADV identifies and recommends best practices in public policy, prevention, intervention and training to assist employers in addressing the effects of domestic violence in the workplace.
Can you tell us a fun fact about yourself? I am fluent in Polish.