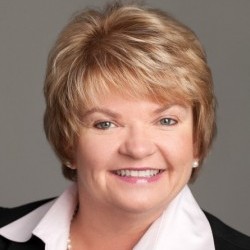 Jane manages our Business Services Department, which focuses on developing and providing treasury management services to our business customers. This includes designing cash management systems that securely and efficiently expedite billing and receivables collections, improve cash flow, and manage transactions cost-effectively.  Jane and her team work closely with our commercial lenders to ensure a great customer experience from the beginning of a relationship with Webster Five to becoming a long-term customer.Jane is always on the lookout for new ways to enhance product offerings. Prior to joining Webster Five, she was responsible for the management and sales of cash management services and government banking at local, regional, and national banks across multiple states.  She also successfully led various banks and their customers through several key system conversions including online banking, ACH, wires, lockbox, and remote deposit capture.

Jane holds a BA in Business Administration from St. Joseph's College.
Jane talks about her role in the bank and life outside the bank.
What are you passionate about in your role? Honest communication and great service between the bank and our customers. Treasury management technology moves fast these days; it's not a one size fits all world anymore. I enjoy working with our business customers to find and design solutions that work for their business.
What are some of your hobbies and interests? So many interests … to name a few: traveling, anything outdoors, cooking, and spending time with my family and friends.
Are you involved with any community causes or organizations? I am a passionate supporter of the CASA Project Worcester and The Family Health Center of Worcester. Volunteering my time, talent, and treasure to support women and children's health, education, and advancement fills my heart.
Can you tell us a fun fact about yourself? I'm very sentimental. I have two one-of-a-kind macaroni necklaces that were made by my children "many" years ago.