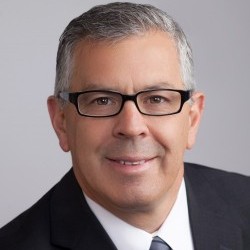 With 30 years of experience in commercial lending, Chris manages our WebFive for Business team. His depth of knowledge and experience in the local market gives Chris the expertise needed to successfully lead one of the largest and most skilled business banking teams in central Massachusetts. What really sets Chris apart, however, is his long history in the Worcester area and his dedication to its businesses and the community at large. In fact, Chris has spent his entire career working in Worcester, creating trusted partnerships and lasting relationships with his customers.
Chris began his career at Mechanics Bank and spent more than 20 years growing with the organization as it was acquired by Bank Boston, Fleet Bank and finally Bank of America. Most recently, Chris was the Division Manager of the Commercial and Industrial Lending Team at Unibank. He earned his BA in economics from the University of Massachusetts, Amherst.
Chris talks about his role in the bank and life outside the bank.
What are you passionate about in your role? I enjoy helping our local businesses and being part of their success as they grow from start-ups or early-stage businesses into mature, thriving businesses. I have many borrowers who have stayed with me over the years, and I consider them good friends to this day. I also enjoy working with the different members of our lending team and seeing them achieve their own goals and success.
What are some of your hobbies and interests? I love being a father to my two beautiful daughters. Nothing gives me more happiness than watching my youngest, Cailey, dance. I also love spending time with my one-year-old grandson. As for hobbies, I'm an avid golfer and enjoy watching most sports.
Are you involved in any community causes or organizations? I am a board member of The United Way of Central Massachusetts and serve on the board's Community Impact Committee. I am also active with the Worcester Chamber of Commerce and am a past board member of the Worcester Chapter of the Massachusetts Society for the Prevention of Cruelty to Children.
Can you tell us a fun fact about yourself? My wife and I love to travel to different places throughout the world. Three years ago, we went to Europe and had breakfast in France, lunch in Switzerland and dinner in Italy — all on the same day.