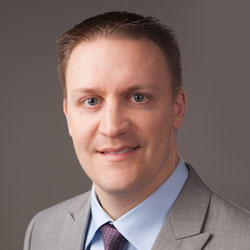 When you manage the finances of a business made up of financial experts, you have to be great at what you do. Brian is. With over 20 years of experience and outstanding academic credentials, Brian manages our financial plans and policies with intelligence and vigilance. A skilled multitasker, Brian oversees the functions of accounting, budgeting, treasury, investments, retail lending, loan operations and collections, along with facilities management. Prior to joining Webster Five's senior management team in 2010, Brian was most recently senior audit manager at Wolf & Company, P.C., where he worked within auditing for a combined nine years. In addition to earning his BS in accounting from Providence College, he is a Certified Public Accountant. Brian is also a graduate of the American Bankers Association Stonier Graduate School of Banking at the University of Pennsylvania, an intensive three-year program for bank executives.
Brian talks about his role in the bank and life outside the bank.
What are you passionate about in your role? Being a part of a wonderful community bank that serves Central Massachusetts, the area where I grew up. I am passionate about bringing leadership to the bank beyond reporting numbers and results. I like to use my financial knowledge to help set and communicate strategies, and partnering with other employees and departments to create a more enjoyable and efficient work experience.
What are some of your hobbies and interests? With two young kids, I don't have much time for my own hobbies, but I am involved in my kids' interests and try to spend as much time with my family as possible. I am an avid sports fan and try to sneak in at least a few rounds of golf during the year, too.
Are you involved in any community causes or organizations? I am the treasurer of the Worcester Community Action Council, serving on the board of directors, the Audit and Finance Committee and the Executive Committee. I am also a part of the Executive Committee of the Worcester Economic Club. I am a member of the Massachusetts Society of Certified Public Accountants, the American Institute of Certified Public Accountants and the Financial Managers Society.
Can you tell us a fun fact about yourself? I still attend a family Sunday dinner every week at the house in Worcester where my father grew up. That is pretty rare, and as the family continues to grow, we can easily have over 20 family members getting together each week. After all these years, we still somehow enjoy each other's company.