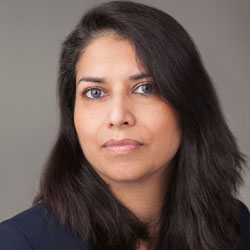 Since the start of her career in 1992, Anjena has gained a great deal of experience in many areas of banking. She started her banking career with Webster First Federal Credit Union. There, she worked as a Float in Lending Services, Supervisor of Residential Servicing, and Bookkeeper for a couple of Rest Homes. Anjena began at Webster Five in 2009 as a part-time teller and went on to gain experience in multiple areas of the bank. In her time at Webster Five, Anjena has worked as a Teller Line Supervisor, Assistant Branch Manager, and a Mortgage Originator before beginning in her current role in Business Services, Cash Management in 2017.
In her current role, Anjena is dedicated to finding solutions for our business customers in order to manage their accounts with ease and grow their business. Her extensive experience in banking and customer service allows her to bring a tremendous amount of insight in enhancing the customer experience to the Business Banking department.
Anjena talks about her role in the bank and life outside the bank.
What are you passionate about in your role? I enjoy the entire process of working with customers and making sure we are meeting their needs. I like to learn as much as I can about their business and situation in order to assist them in keeping their accounts safe and secure, all while efficiently managing their funds.
What are some of your hobbies and interests? Travel is the main one. I would travel in a heartbeat if possible. I have seen most of England (my second home) and visited many European countries, Israel, and China.
Are you involved in any community causes or organizations? I currently serve on several boards: Hubbard Health Systems, Inc., Webster Emergency Medical Services, and the Board for Tri-Valley, Inc., (Treasurer). I am also a member of the Webster Dudley Oxford Chamber and specifically assist the Golf Committee in raising funds for the scholarship program.
Can you tell us an interesting fact about yourself? I grew up in England with a traditional Indian upbringing. It was difficult juggling my family's traditional values in a nontraditional environment.