Webster Five Donates $2,500 to Webster Water Ski Collective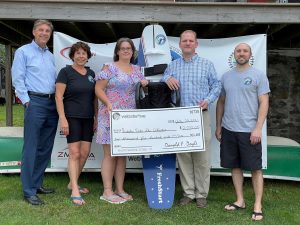 (July 29, 2021) Webster, MA – The Webster Five Foundation has announced that as part of the Web of Caring to Make a Difference program, it has donated $2,500 to Webster Water Ski Collective. This donation will assist Webster Water Ski Collective in purchasing equipment used by disabled individuals who participate in their Adaptive Ski programs, which offers a unique opportunity for individuals with mobility, visual, or other impairments to experience the joys and benefits of water sports.
Incorporated in Webster and Charlton, MA in 2020, the Webster Water Ski Collective is a club started with a deep passion for watersports and a desire to share the love of local lakes and skiing with others. Soon after, the Collective was able to find a home site and begin purchasing equipment for their skiers. The Collective is continuing to expand their efforts to make skiing available to everyone through their growing Adaptive Water Ski program. This program is designed to assist participants with various disabilities in learning to water ski. The Collective hosted one of these events at Webster Lake on June 25 and is planning an additional Adaptive Ski Day at Lake Quinsigamond later this summer.
Donald F. Doyle, President and Chief Executive Officer of Webster Five, stated, "We are pleased to help support Webster Water Ski Collective's mission to make watersports accessible and enjoyable for local community members regardless of ability through the purchase of adaptive water skiing equipment. We're excited to see the Collective continue to grow and expand its programming at Webster Lake and beyond while fostering a deep love of watersports for individuals with disabilities within our community."
Ryan DesRoches, Webster Water Ski Collective President, stated, "We are grateful for Webster Five's generosity in helping us purchase the equipment needed to support the expansion of our Adaptive Ski Program. We are honored to be one of the few clubs in the country that is working with disabled individuals to make water skiing available to everyone through our growing Adaptive Water Ski programs."