Webster Five announces a donation to Shrewsbury Youth and Family Services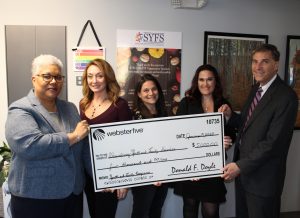 January 27, 2020 – The Webster Five Foundation has announced that as part of the Web of Caring to Make a Difference program, it will donate $5,000 to Shrewsbury Youth and Family Services. The donation will help support the expansion of their services including a diverse offering of programs and services that help strengthen and support youth and families regardless of their ability to pay.
Shrewsbury Youth and Family Services, Inc. works to meet the growing demand for mental health counseling, substance use and mental health prevention and education programs, social services, positive youth development programs, and support groups in Shrewsbury and the surrounding communities. Since its inception, the agency has expanded its focus to respond to the changing needs in their community.
Donald F. Doyle, President and Chief Executive Officer of Webster Five, stated, "We are pleased to support Shrewsbury Youth and Family Services' mission to provide valuable social services for low income families who otherwise would be unable to access these resources."
Christine Mowry, Executive Director of Shrewsbury Youth and Family Services stated, "We are grateful for Webster Five's generosity, and because of support like theirs, we will be able to continue to offer our clients what they need most: security, nurturing, support, and above all, hope."