Webster Five announces a donation to Jeremiah's Inn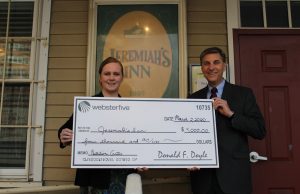 (March 3, 2020) Webster, MA – The Webster Five Foundation has announced that as part of the Web of Caring to Make a Difference program, it will donate $4,000 to Jeremiah's Inn. The donation will help support Jeremiah's Inn's Nutrition Center, which houses a food pantry, to alleviate hunger for more than 8,000 low-income Worcester residents annually. It will also be utilized to provide programming that will help improve health outcomes for the residents the organization supports.
Jeremiah's Inn uses a social model to provide residents with a safe environment in which to begin recovery. They foster a sense of community and mutual aid through partnerships, volunteerism and their Nutrition Center. Their vision is to help people better their lives in order to better the community and they believe that overall health and wellness is reflected when individuals live a healthy lifestyle and make healthy choices.
Donald F. Doyle, President and Chief Executive Officer of Webster Five, stated, "We are pleased to support Jeremiah's Inn's mission to foster a sense of community and mutual aid through partnerships, volunteerism and their invaluable Nutrition Center serving our neighbors in the Worcester area."
Janelle Wilson, Executive Director of Jeremiah's Inn stated, "We are grateful for Webster Five's generosity and their commitment to helping us empower our clients and residents lead healthier lives through programming that compliments body, mind and spirit."