The Webster Five Foundation announces donation to the YWCA Central Massachusetts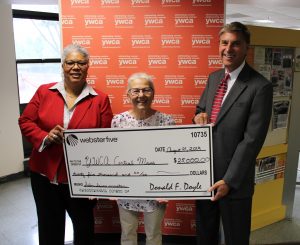 August 21, 2019– The Webster Five Foundation has announced that as part of the Web of Caring to Make a Difference program, it will donate $25,000 payable over three years to YWCA Central Massachusetts. The donation will help to enable the YWCA to provide services more effectively and expand their capacity in their planned renovations of their Salem Square facility in Worcester.
The YWCA is dedicated to eliminating racism, empowering women and promoting peace, justice, freedom and dignity for all. Through a variety of programs and services, the YWCA works to reduce disparity and inequality in health, education, income, and power, especially for women and people of color, and to empower them to achieve lasting independence and economic self-sufficiency. Their programs include domestic violence services, child care services, women's economic empowerment, and wellness and health equity.
Donald F. Doyle, President and Chief Executive Officer of Webster Five, stated, "We are pleased to support the YWCA mission to provide valuable services and programs for women and their families living in the central Massachusetts area in their improved space."
Linda Cavaioli, YWCA Central Massachusetts Executive Director, said, "We are grateful for Webster Five's generosity and their commitment to helping us meet the expanding needs of our community in a more modern and welcoming facility."