The Webster Five Foundation announces donation to MA Audubon Society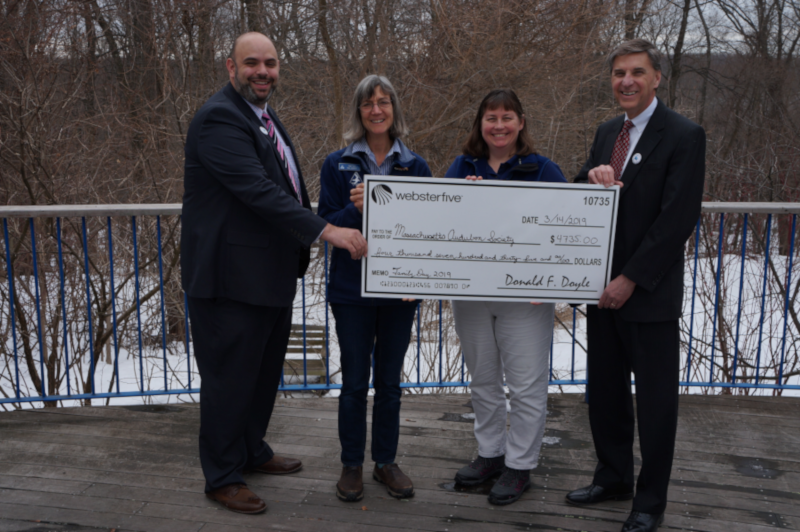 The donation will help support a Family Day in 2019 at their Pierpont Meadow Wildlife Sanctuary in Dudley, and will include live animal demonstrations, nature based activities, and canoeing.
The Massachusetts Audubon Society protects 38,000 acres of land throughout Massachusetts, saving birds and other wildlife, and making nature accessible to all. They welcome more than a half million visitors a year to their wildlife sanctuaries and 20 nature centers. The Massachusetts Audubon Society is a nationally recognized environmental education leader, offering thousands of camp, school, and adult programs that get over 225,000 kids and adults outdoors every year.
Donald F. Doyle, President and Chief Executive Officer of Webster Five, stated, "We are pleased to support the Massachusetts Audubon Society's mission to protect the nature of Massachusetts for people and wildlife and believe their Family Day activities will be a great event for local families."
Deborah Cary, Broad Meadow Brook & Wachusett Meadow Wildlife Sanctuaries Director, said, "We are grateful for Webster Five's generosity and their commitment to helping us protect our state's natural treasures for wildlife and all people."
About Web of Caring to Make a Difference
Web of Caring to Make a Difference is a bank-wide community program created by Webster Five as a tangible means for the bank as an organization and its employees as individuals to make a positive impact by supporting local organizations that also are making a difference. Through the Webster Five Foundation, the program has donated more than $2 million dollars to various local nonprofit organizations for programs that support expanding and improving access to education, culture and the arts, social services, charitable activities and community development. Requests for funding through the Webster Five Foundation are reviewed by the board of directors and are awarded to established 501(c)(3) organizations in the above sectors that qualify.