The Webster Five Foundation announces donation to Creative Hub Worcester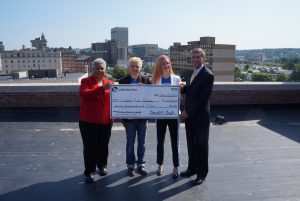 July, 2019- The Webster Five Foundation has announced that as part of the Web of Caring to Make a Difference program, it will donate $20,000 payable over three years to Creative Hub Worcester. The donation will help support Creative Hub Worcester in their mission to provide affordable and accessible opportunities in the arts for all Worcester area community members, with a focus on at-risk and underserved youth.
The Creative Hub Worcester is driven by their goal to do their part in making the city of Worcester a better and more accessible creative place. Creative Hub Worcester's ecosystem of artists, innovators, small business owners, youth, and families will help create and grow a vibrant and dynamic community center focused on creative and cultural expression.
Donald F. Doyle, President and Chief Executive Officer of Webster Five, stated, "We are pleased to support the Creative Hub Worcester's mission to make a lasting impact on the community and culture of Worcester by developing a space where artists and creators can thrive."
Laura Marotta, Creative Hub Worcester's Executive Director, said, "We are grateful for Webster Five's generosity and their commitment to helping us create a space that will have a lasting and vital impact on the sustainability of our artistic community."