The Webster Five Foundation announces a donation to the Joy of Music Program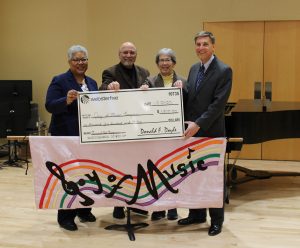 January 27, 2020 – The Webster Five Foundation has announced that as part of the Web of Caring to Make a Difference program, it will donate $1,500 to the Joy of Music Program. The donation will help support their Financial Aid Program for students throughout the greater Worcester area, regardless of income, to receive high quality music instruction.
Joy of Music's purpose of giving people of all ages a joyful and solid foundation for life-long musical growth is at the heart of the vital and thriving non-profit community music school. Their mission is to enrich lives and foster community through accessible music education and performance in a supportive, non-competitive and inspiring environment. The organization currently has an enrollment of over 500 students from infants to seniors.
Donald F. Doyle, President and Chief Executive Officer of Webster Five, stated, "We are pleased to support the Joy of Music's mission to enrich lives through music education with a donation that will help to provide need-based scholarships to members of our local community."
Wendy Webster Ardizzone, Director of the Joy of Music Program stated, "We are grateful for Webster Five's generosity and their commitment to helping us foster a lifelong love for music in the people we serve regardless of their financial situation."