Supporting Father Brooks House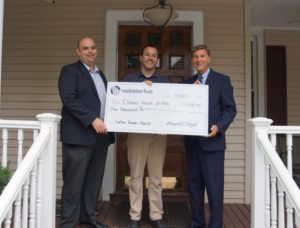 In the photo from left to right: Sam Bitar – Executive Director of the Webster Five Foundation & VP Business Systems Manager, Webster Five; David McMahon – Executive Director – Dismas House of Massachusetts; Donald Doyle – President/CEO, Webster Five
The Webster Five Foundation announced that as part of the Web of Caring to Make a Difference program, it will donate $4,000 to Dismas House of Massachusetts, Inc. The money will go toward offsetting utility costs at the Father Brooks House, which provides a permanent housing community for Dismas House graduates and their families.
Dismas House of Massachusetts is a charitable agency whose mission is to reconcile former prisoners to society and society to former prisoners. They manage a network of housing and social services that provide a unique approach to ensure the success of the homeless and former prisoners in Central MA. They seek to offer a safety net and social network for participants through a combination of targeted resources developed by staff, oversights and strategic planning. Programming at Dismas' Father Brooks House aims to combat numerous pressing social issues currently afflicting Central Massachusetts.
"The Father Brooks House is an incredible resource for Dismas graduates", says Donald F. Doyle, President and Chief Executive Officer of Webster Five, "We are happy to help Dismas House continue with their work."
Executive Director, David McMahon said, "We are so grateful to Webster Five for recognizing our organization and helping us to make a difference in the community."
About Web of Caring to Make a Difference
Web of Caring to Make a Difference is a bank-wide community program created by Webster Five as a tangible means for the bank as an organization and its employees as individuals to make a positive impact by supporting local organizations that also are making a difference. Through the Webster Five Foundation, the program has donated more than $2 million dollars to various local nonprofit organizations for programs that support expanding and improving access to education, culture and the arts, social services, charitable activities and community development. Requests for funding through the Webster Five Foundation are reviewed by the board of directors and are awarded to established 501(c)(3) organizations in the above sectors that qualify.