Support for Learning Center Growth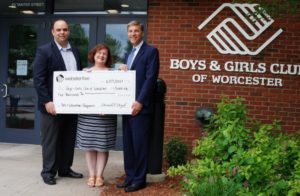 In the photo from left to right: Sam Bitar – Executive Director of the Webster Five Foundation & VP Business Systems Manager, Webster Five; Liz Hamilton – Executive Director, Boys & Girls Club of Worcester; Don Doyle – President/CEO, Webster Five 
The Webster Five Foundation announced that as part of the Web of Caring to Make a Difference program, it will donate $5,000 to the Boys & Girls Club of Worcester. The Boys & Girls Club is looking to expand their arts and education programs, which serves about 160 children every week.
As the only youth organization in Worcester that is free of charge, the Boys & Girls Club and its Learning Center is an invaluable asset to the youth in the community, serving about 200 children a day. Eighty percent of the children they work with live at or below the federal poverty line, providing them with services and opportunities they would not have access to otherwise. Creative outlets are critical for development, and as public school systems are cutting funding for arts programs, these children cannot afford to participate in them elsewhere. To increase educational opportunities for these children, the club offers homework help, tutoring, one-on-one mentoring, financial literacy, college prep, SAT prep, and many other essential resources to help keep these children on the path to success.
Donald F. Doyle, President and Chief Executive Officer of Webster Five, stated, "We are proud of the difference the Boys & Girls Club is making for the youth in our community, and are happy to do our part to support them."
Executive Director, Liz Hamilton, said "We are very grateful to Webster Five for their donation. Partners like these are crucial to our continued success creating brighter futures for underprivileged children."
About Web of Caring to Make a Difference
Web of Caring to Make a Difference is a bank-wide community program created by Webster Five as a tangible means for the bank as an organization and its employees as individuals to make a positive impact by supporting local organizations that also are making a difference. Through the Webster Five Foundation, the program has donated more than $2 million dollars to various local nonprofit organizations for programs that support expanding and improving access to education, culture and the arts, social services, charitable activities and community development. Requests for funding through the Webster Five Foundation are reviewed by the board of directors and are awarded to established 501(c)(3) organizations in the above sectors that qualify.