Helping Local Youth Achieve Employment Goals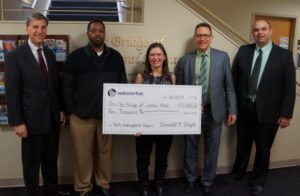 In the photo from left to right: Don Doyle – President/CEO, Webster Five & Bridge of Central MA Board Member; Sean Harris – Supported Employment & Education Specialist, The Bridge of Central MA; Amelia Dillon – Supported Employment & Education Director, The Bridge of Central MA; Ken Bates – Executive Director, The Bridge of Central MA; Sam Bitar – Executive Director of the Webster Five Foundation/VP Business Systems Manager, Webster Five
Webster Five Foundation has announced that as part of the Web of Caring to Make a Difference program, it has donated a total of $10,000 to the Bridge of Central Massachusetts. The donation was a $5,000 matching grant, allowing the Bridge of Central Massachusetts to receive an additional $5,000 because they raised equivalent funds from other financial institutions. The total $10,000 donated from the Webster Five Foundation will help fund the Bridge Youth Employment Project.
The Bridge of Central Massachusetts is a human services agency serving Webster and 16 other communities, mostly in central Massachusetts, providing compassionate, evidence-based services for people with mental health challenges, developmental disabilities, autism, brain injury, homelessness and substance use disorders. The Bridge Youth Employment Project helps children and young adults by providing job-seeking skill development and by assisting young people who have mental health challenges in overcoming barriers to employment.
Ken Bates, President and CEO, said, "We are incredibly thankful for Webster Five's generosity. The donation has enabled us to extend the reach of our programs and provide greater assistance to our local youth."
Donald F. Doyle, President and Chief Executive Officer of Webster Five, stated, "The Bridge of Central Massachusetts continues to have such a positive impact on the local community and we are truly honored to contribute to an organization that is making such a  difference."
About Web of Caring to Make a Difference
Web of Caring to Make a Difference is a bank-wide community program created by Webster Five as a tangible means for the bank as an organization and its employees as individuals to make a positive impact by supporting local organizations that also are making a difference. Through the Webster Five Foundation, the program has donated more than $2 million dollars to various local nonprofit organizations for programs that support expanding and improving access to education, culture and the arts, social services, charitable activities and community development. Requests for funding through the Webster Five Foundation are reviewed by the board of directors and are awarded to established 501(c)(3) organizations in the above sectors that qualify.