Funding Family Support Programs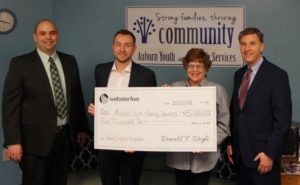 In the photo from left to right: In the photo from left to right: Sam Bitar – VP Business Systems Manager/Foundation Executive Director, Webster Five; Roger Robinson- Auburn Branch Manager, Webster Five; Sally D'Arcangelo – Executive Director, AYFS; and Don Doyle, President/CEO
The Webster Five Foundation has announced that as part of the Web of Caring to Make a Difference program, it has donated $5,000 to Auburn Youth and Family Services (AYFS). The donation will help fund the youth and family support programs and services that run year-round.
The mission of Auburn Youth and Family Services is to support families trough empowerment and community collaboration. The organization provides counseling, tutoring, advocacy, information and referral, after-school and summer youth programs, support groups for children, teens and parents, a food pantry and clothing closet to those who live in the town of Auburn and surrounding communities.
Executive Director, Sally D'Arcangelo said, "We are incredibly thankful for Webster Five's generosity. This donation helps enable us to provide quality services to those in need, in order to improve the overall well-being for residents of the Auburn community."
Donald F. Doyle, President and Chief Executive Officer of Webster Five, stated, "The programs and services provided by AYFS make such a positive impact on the local residents' quality of life and we are honored to contribute to an organization that is making such a difference."
About Web of Caring to Make a Difference
Web of Caring to Make a Difference is a bank-wide community program created by Webster Five as a tangible means for the bank as an organization and its employees as individuals to make a positive impact by supporting local organizations that also are making a difference. Through the Webster Five Foundation, the program has donated more than $2 million dollars to various local nonprofit organizations for programs that support expanding and improving access to education, culture and the arts, social services, charitable activities and community development. Requests for funding through the Webster Five Foundation are reviewed by the board of directors and are awarded to established 501(c)(3) organizations in the above sectors that qualify.