Funding Equipment & Vehicle Maintenance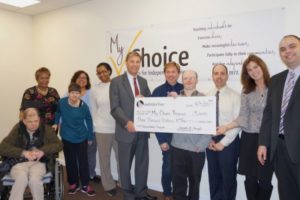 In the photo from left to right:
2 My Choice Programs participants; Catherine Wakeria – Residential Direct Care Worker, My Choice Programs; Linda Clement – Adult Foster Care Program Director, My Choice Programs; LaTeasha Sams – Residential Director, My Choice Programs; Donald Doyle – President/CEO, Webster Five; John Lazzaro – Director of Development & Operations, My Choice Programs; Joseph Kaczynski – Data Clerk, My Choice Programs; John Piselli – Director of Employment and Training, My Choice Programs; Pamela Green – Director of Shared Living, My Choice Programs; Sam Bitar – Executive Director of the Webster Five Foundation & VP Business Systems Manager, Webster Five
The Webster Five Foundation announced that as part of its Web of Caring to Make a Difference program, it will donate $3,000 to My Choice Programs, Inc. This Worcester, MA based nonprofit is looking for support of their transportation program in order to make updates to their vehicles and bring them to heightened standards of safety.
My Choice Programs provides residential, shared living and individual community services to people with mobility impairment and developmental disabilities, in order for them to participate fully and contribute to their communities. Individuals who participate in the program depend upon the availability of safe wheel chair transportation in order to access community based activities and appointments. As a small service agency with only two vehicles, My Choice Programs recognizes the need to repair and update the wheel chair vans to ensure the safety of both clients and staff who are operating the vehicle's equipment.
Donald F. Doyle, President and Chief Executive Officer of Webster Five, stated, "We are proud of the difference that My Choice Programs is making for the individuals in need. We're happy to support an organization who is making a positive impact in our community."
Chief Executive Officer of My Choice Programs, Alain Beret, said "We are very thankful for Webster Five's donation towards our vehicle repairs and updates to equipment. This maintenance is essential for our services to continue running smoothly and safely for clients and staff members, so we thank Webster Five for making it possible."
About Web of Caring to Make a Difference
Web of Caring to Make a Difference is a bank-wide community program created by Webster Five as a tangible means for the bank as an organization and its employees as individuals to make a positive impact by supporting local organizations that also are making a difference. Through the Webster Five Foundation, the program has donated more than $2 million dollars to various local nonprofit organizations for programs that support expanding and improving access to education, culture and the arts, social services, charitable activities and community development. Requests for funding through the Webster Five Foundation are reviewed by the board of directors and are awarded to established 501(c)(3) organizations in the above sectors that qualify.