Family Food Pantry Support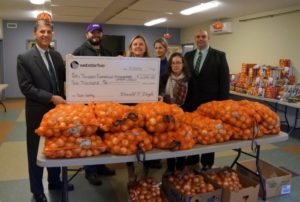 In the photo from left to right: Don Doyle – President/CEO, Webster Five; Jason Bleau – Volunteer Coordinator, TEEG; Anne Miller – Executive Director, TEEG; Amy Archambaul – Board Member, TEEG; Nadia Krivosheev – Food Programs Coordinator, TEEG; Sam Bitar – Executive Director of the Webster Five Foundation & VP Business Systems Manager, Webster Five
Webster Five Foundation has announced that as part of the Web of Caring to Make a Difference program, it will donate $2,000 to Thompson Ecumenical Empowerment Group (TEEG). TEEG has been working to meet the needs of low income families and individuals since 1988.
With its own Food Pantry, Diaper Bank, Case Management and Adolescent Mentoring Programs, TEEG offers these and many other services to support community families, particularly those with the most income-based need.
"Food insecurity is a challenge that faces many low-income families in our communities," said TEEG Executive Director, Anne Miller. "TEEG combats these issues by leveraging community resources to create a food rescue plan. We are very grateful for Webster Five's donation to our organization as it will help broaden our community reach."
Donald F. Doyle, President and Chief Executive Officer of Webster Five stated, "We are honored to support TEEG and their efforts to provide a reliable support system for families in need in our community."
About Web of Caring to Make a Difference
Web of Caring to Make a Difference is a bank-wide community program created by Webster Five as a tangible means for the bank as an organization and its employees as individuals to make a positive impact by supporting local organizations that also are making a difference. Through the Webster Five Foundation, the program has donated more than $2 million dollars to various local nonprofit organizations for programs that support expanding and improving access to education, culture and the arts, social services, charitable activities and community development. Requests for funding through the Webster Five Foundation are reviewed by the board of directors and are awarded to established 501(c)(3) organizations in the above sectors that qualify.