Emergency Medical Equipment for Local League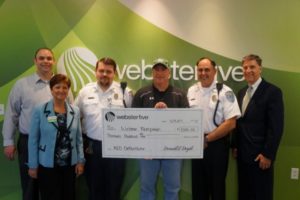 In the photo from left to right:
Sam Bitar – Executive Director of the Webster Five Foundation & VP Business Systems Manager, Webster Five; Brenda Sullivan – AVP Senior Branch Manager in Webster, Webster Five; David Majorowski – Captain, Webster Emergency Medical Services; James Baca – Marketing and Sponsorship, Webster Fastpitch; Gary Milliard – Chief, Webster Emergency Medical Services;  Donald Doyle – President/CEO, Webster Five
As part of Webster Five's Web of Caring to Make a Difference Program, a $1,300 donation was made to Webster Fastpitch, the local girls' softball league in Webster, MA. The donation will fund the purchase of a portable AED Defibrillator. The league is working with Webster Emergency Medical Services (Webster EMS) to assist with the purchase of the machine, as well as the necessary training to the coaching staff and board members.
About Web of Caring to Make a Difference
Web of Caring to Make a Difference is a bank-wide community program created by Webster Five as a tangible means for the bank as an organization and its employees as individuals to make a positive impact by supporting local organizations that also are making a difference. Through the Webster Five Foundation, the program has donated more than $2 million dollars to various local nonprofit organizations for programs that support expanding and improving access to education, culture and the arts, social services, charitable activities and community development. Requests for funding through the Webster Five Foundation are reviewed by the board of directors and are awarded to established 501(c)(3) organizations in the above sectors that qualify.