Community Housing Support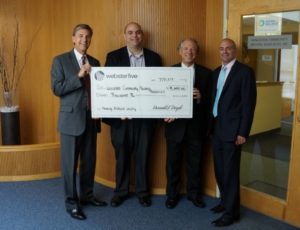 In the photo from left to right: Donald Doyle – President/CEO, Webster Five; Sam Bitar – Executive Director of the Webster Five Foundation & VP Business Systems Manager, Webster Five; Dominick Marcigliano – Executive Director, Worcester Community Housing Resources (WCHR); Craig Nardi – VP Director of Retail Lending, Webster Five & WCHR Board Member/Loan Committee Member   
Webster Five Foundation announced that as part of the Web of Caring to Make a Difference program, they will donate $11,000 to Worcester Community Housing Resources, Inc. This one-time grant is given in honor of Webster Five's retired president and Worcester Community Housing Resources board member, Richard Leahy.
Since 1993, Worcester Community Housing Resources has proven to be a successful organization. By creating and preserving affordable housing opportunities for low-income households and fostering neighborhood revitalization, Worcester Community Housing Resources has become an important asset to the community. Webster Five's donation will go toward the continuation of high-quality housing development, abandoned housing renovation, property management and home repair throughout Worcester County. WCHR has helped stabilize neighborhoods, increase property values, expand the availability of affordable housing options and improve the quality of life and economic viability of the people and communities it serves.
Donald F. Doyle, President and Chief Executive Officer of Webster Five, stated, "The work conducted by Worcester Community Housing Resources plays an important role in what makes this community great. Webster Five is proud to contribute to this organization."
Executive Director, Dominick Marcigliano said, "We are thankful for Webster Five's generosity and their commitment to supporting our community."
About Web of Caring to Make a Difference
Web of Caring to Make a Difference is a bank-wide community program created by Webster Five as a tangible means for the bank as an organization and its employees as individuals to make a positive impact by supporting local organizations that also are making a difference. Through the Webster Five Foundation, the program has donated more than $2 million dollars to various local nonprofit organizations for programs that support expanding and improving access to education, culture and the arts, social services, charitable activities and community development. Requests for funding through the Webster Five Foundation are reviewed by the board of directors and are awarded to established 501(c)(3) organizations in the above sectors that qualify.