Changes to Electronic Payment Processing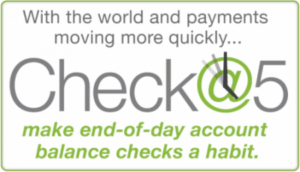 New developments are happening in the payment industry, which means you can now receive money quicker and send money to your friends and family faster.
What do these changes mean for you?
Merchants or billing companies can provide same-day electronic payments or funds transfers.
Bill payments made online, or over the phone using your account number and bank's routing number may be completed on the same day it was initiated.
Preauthorized payments could process on the same day.
Companies (such as grocery stores) can convert checks that may settle on the same business day.
Credits or refunds to your account may also be processed on the same day.
Why is this important to know?
If you pay bills online or over the phone, please know that it could clear the same day.To avoid any issues, please be sure that the funds are available in your account prior to making the payment.
Keeping track of your balance by using a check book register is your best option. You may use online banking, an ATM or telephone banking to check your account, but transactions will post throughout the day, reducing your available balance.
Any type of debit made electronically may clear the same day it was processed.
If you do not have sufficient funds in your account on that day, your payment may not process and you may be charged overdraft fees.
This new payment processing rule impacts all financial institutions and customers nationwide. We encourage you to check at 5PM to help manage your finances.
In order to monitor your account frequently, we offer:
24/7 Telephone Banking – 800.492.1032
Online & Mobile Banking – Learn more and Enroll