Assisting Elders with Money Management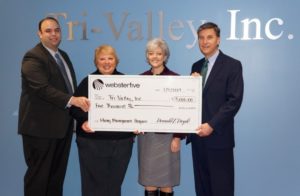 05
In the photo from left to right: Sam Bitar – Executive Director of the Webster Five Foundation and Business Analyst, Webster Five; Marilyn Travinski – Executive Director, Tri-Valley, Inc.; Lisa Prince – Assistant Executive Director, Tri-Valley, Inc.; Don Doyle – President/CEO, Webster Five
The Webster Five Foundation announced that as part of its Web of Caring to Make a Difference program, it will donate $5,000 to Tri-Valley, Inc. Tri-Valley is a private, nonprofit agency providing in-home and community services in South Central Massachusetts. Their mission is to assist elders and individuals with disabilities while maintaining an optimal level of independence, dignity, and well-being. They provide information, advocacy, access to quality services and resources, and caregiver support.
Webster Five's Web of Caring to Make a Difference program reinforces the bank's long-standing initiative to give back to the community by supporting local organizations that are making a difference. Tri-Valley's Money Management Program aligns with this initiative, because it promotes independent living for elders on a limited income who are at risk because of the inability to manage their finances. Some of these elders may have mental or physical disabilities that inhibit their reading and writing, posing a difficulty to organize and pay bills, balance their checkbooks, or properly complete regular financial activities.
These individuals are vulnerable, and often times find themselves in unfortunate circumstances, such as without electricity or facing eviction, due to unpaid bills. They may possess the funds to pay their bills, but lack the inability to physically do so. Without reliable assistance, they may lose their independence, or find themselves being exploited or under the guidance of someone intentionally mishandling their funds. Tri-Valley's Money Management Program provides trained, screened, CORI checked and insured program volunteers to work with these elders to properly manage their financial responsibilities. The assistance is intended to be as helpful without being disruptive, to help maintain as much privacy and independence as possible. The AARP Foundation estimates that the program in Massachusetts saved clients about $60,000 per person.
Donald F. Doyle, President and Chief Executive Officer of Webster Five, stated, "Tri-Valley, Inc.'s Money Management Program is providing a great service to the elders in our community. This has unfortunately become a widespread issue for elders and we are happy to support an organization that provides necessary financial assistance to maintain independence, while respecting their privacy."
President of Tri-Valley, Inc. Marilyn Travinski said "We appreciate Webster Five's donation to our program. These funds will help us continue to ensure that the elderly are not misguided and are able to hold onto their independence, without sacrificing their financial stability."
About Web of Caring to Make a Difference
Web of Caring to Make a Difference is a bank-wide community program created by Webster Five as a tangible means for the bank as an organization and its employees as individuals to make a positive impact by supporting local organizations that also are making a difference. Through the Webster Five Foundation, the program has donated more than $2 million dollars to various local nonprofit organizations for programs that support expanding and improving access to education, culture and the arts, social services, charitable activities and community development. Requests for funding through the Webster Five Foundation are reviewed by the board of directors and are awarded to established 501(c)(3) organizations in the above sectors that qualify.