Access to Translation Services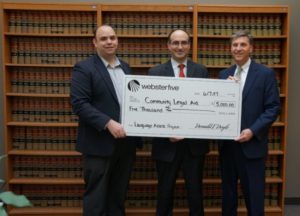 In the photo from left to right:
Sam Bitar – Executive Director of the Webster Five Foundation & VP Business Systems Manager, Webster Five; Jonathan Mannina – Executive Director, Community Legal Aid; Don Doyle – President/CEO, Webster Five
The Webster Five Foundation announced that as part of the Web of Caring to Make a Difference program, it will donate $5,000 to Community Legal Aid, Inc. The money will help pay for the organization's interpretation and translation expenses in Worcester County.
Community Legal Aid (CLA) is the civil legal aid program serving low-income and elderly residents of Worcester, Hampden, Hampshire, Franklin, and Berkshire Counties. Its mission is to improve people's lives through legal assistance that protects fundamental rights, secures access to basic needs, and challenges policies and practices that harm its clients. CLA prides itself on serving a diverse range of clients free of charge. Webster Five's donation will ensure that non-English-speaking clients have equally effective access to the organization's services.
Donald F. Doyle, President and Chief Executive Officer of Webster Five stated, "It's important that all people can receive high-quality legal assistance, regardless of their primary language. Webster Five is proud to support Community Legal Aid's Language Access Project."
Executive Director, Jonathan Mannina said, "We are grateful for Webster Five's support. This allows us to better serve all of our clients."
About Web of Caring to Make a Difference
Web of Caring to Make a Difference is a bank-wide community program created by Webster Five as a tangible means for the bank as an organization and its employees as individuals to make a positive impact by supporting local organizations that also are making a difference. Through the Webster Five Foundation, the program has donated more than $2 million dollars to various local nonprofit organizations for programs that support expanding and improving access to education, culture and the arts, social services, charitable activities and community development. Requests for funding through the Webster Five Foundation are reviewed by the board of directors and are awarded to established 501(c)(3) organizations in the above sectors that qualify.