Supporting Domestic Violence Safety and Prevention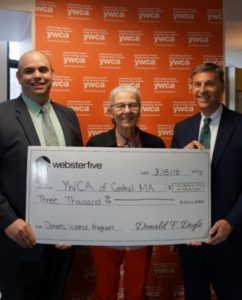 In the photo from left to right: Sam Bitar – VP Business Systems Manager/Foundation Executive Director, Webster Five; Linda Cavaioli – Executive Director, YWCA; Don Doyle – President/CEO, Webster Five
The Webster Five Foundation announced that as part of the Web of Caring to Make a Difference program, it will donate $3,000 to the YWCA Central Massachusetts. The grant will help fund the Domestic Violence Community Based Services program, which provides safety and support to survivors of abuse and creates local solutions for prevention and promoting healthy relationships.
The YWCA is the longest-serving agency by, for and about women in central Massachusetts. It is dedicated to eliminating racism, empowering women, and promoting peace, justice, freedom and dignity for all. The primary goal of the Domestic Violence Community Based Services program is to keep victims of domestic violence safe by teaching the skills and knowledge that will help them maintain their own safety. Services will be provided at the YWCA's main facility in Worcester and at area police stations, hospitals and courthouses, serving thousands of individuals throughout Worcester County.
Donald F. Doyle, president and chief executive officer of Webster Five, stated, "We are proud of the difference the YWCA is making by providing a safe, educational place for domestic violence victims to develop brighter futures."
YWCA Central Massachusetts Executive Director Linda Cavaioli said, "We are very grateful to Webster Five for their support in creating an environment where survivors can feel safe exploring issues around violence in their lives and begin to heal from the effects of abuse."
About Web of Caring to Make a Difference
Web of Caring to Make a Difference is a bank-wide community program created by Webster Five as a tangible means for the bank as an organization and its employees as individuals to make a positive impact by supporting local organizations that also are making a difference. Through the Webster Five Foundation, the program has donated more than $2 million dollars to various local nonprofit organizations for programs that support expanding and improving access to education, culture and the arts, social services, charitable activities and community development. Requests for funding through the Webster Five Foundation are reviewed by the board of directors and are awarded to established 501(c)(3) organizations in the above sectors that qualify.