Head Start in Webster Coming Soon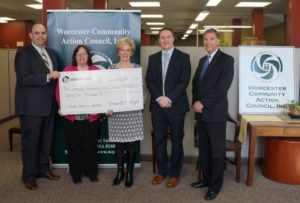 In the photo from left to right: Sam Bitar – VP Business Systems Manager/Foundation Executive Director, Webster Five; Kerry Brennan – Chief Operating Officer, WCAC; Jill Dagilis – Executive Director, WCAC; Brian Westerlind – CFO, Webster Five & WCAC Treasurer/Board Member; Don Doyle – President/CEO, Webster Five
The Webster Five Foundation has announced that as part of the Web of Caring to Make a Difference program, it will donate $25,000 to Worcester Community Action Council (WCAC), payable over two years. The funds will be used to open a new four-classroom Head Start center in Webster, Massachusetts.
WCAC is a federally designated community action agency serving central Massachusetts, helping more than 75,000 people annually, through a variety of economic self-sufficiency and emergency programs. The Head Start program currently serves 221 children and their families out of Southbridge. The center-based program provides developmentally appropriate courses, health and nutrition services, meals, special education opportunities, and family services. The opening of a new, long-term Head Start site in Webster will grant more low-to-moderate-income families in the area an opportunity to pursue employment or training while knowing their child is being well cared for in a center close to home. The new site will be located at 116 School Street in Webster and will serve children from Webster, East Brookfield, Leicester, Millbury, Oxford, Southbridge and Spencer.
Donald F. Doyle, president and chief executive officer of Webster Five, stated, "We are honored to support the WCAC in their initiative to provide another safe place for children and families to grow and find balance in their lives."
Executive Director Jill C. Dagilis said, "We are extremely grateful for Webster Five's generosity and their commitment to supporting families in need living in our local community."
About Web of Caring to Make a Difference
Web of Caring to Make a Difference is a bank-wide community program created by Webster Five as a tangible means for the bank as an organization and its employees as individuals to make a positive impact by supporting local organizations that also are making a difference. Through the Webster Five Foundation, the program has donated more than $2 million dollars to various local nonprofit organizations for programs that support expanding and improving access to education, culture and the arts, social services, charitable activities and community development. Requests for funding through the Webster Five Foundation are reviewed by the board of directors and are awarded to established 501(c)(3) organizations in the above sectors that qualify.