Home


Log in
For personal banking on your mobile device, please download our app from the page below.
Personal Banking
For business banking on your mobile device, please download our app from the page below.
Business Banking
Webster Five Coronavirus (COVID-19) Response
ALERT: Effective Monday, March 30, adjusted drive-up hour
In order to ensure the health and safety of our customers and employees following the spread of Coronavirus (COVID-19), effective Monday, March 30, we will be handling banking transactions through the drive-up only during the following hours until further notice. As a temporary measure, no walk-in service will be available at this time. Click here to see our locations and drive-up hours.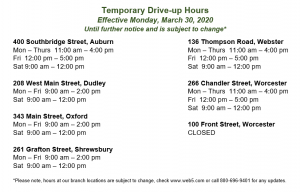 We know that some of you may require access to your safe deposit boxes while our branch locations are closed. In order to do so, please contact us at 800-696-9401 to make an appointment.
Webster Five takes the safety and welfare of our customers and employees seriously. Like a growing number of businesses, we are proactively following news regarding the Coronavirus (COVID-19). We will continue to provide any updates regarding our business practices as the situation develops.
Webster Five offers a number of convenient solutions to banking without a branch:
Digital and mobile banking for account monitoring and transfers, including mobile check deposit (Learn more)
Deposit and withdrawal capabilities at our on-site ATM's (Find locations). You may also withdraw surcharge-free at ATM's within the SUM network (Find a SUM network ATM) ATM deposits will  be processed as usual.
Bank by phone 24 hours a day, 7 days a week: 800-492-1032
Contact us via direct message in Digital Banking
Apply for a loan or personal deposit account through our website
Call our Contact Center at 800-696-9401. Hours: Monday through Friday 8:00 am to 6:00 pm, Saturday 8:00 am – 1:00 pm
Information for businesses:
We understand that businesses are struggling as a result of this situation and we're here to help. If your business is experiencing difficulties, reach out to our business banking team for assistance at 800-696-9401 or email us. You can find additional resources on financial support for your business below.
The U.S. Small Business Administration's Economic Injury Disaster Loan (EIDL) program is accepting applications from Massachusetts businesses. Apply here.
The City of Worcester has made available $500,000 in Community Development Block Grants to be distributed in $10,000 micro-grants to businesses. Apply here.
Use reliable sources for information related to COVID-19
Unfortunately, fraudsters are taking advantage of fears surrounding COVID-19. As your trusted banking partner, we may to ensure you're aware of the scams you need to watch out for. Learn more from the FTC on COVID-19 scams here.
Keep up-to-date on Webster Five's response
We will continue to monitor developments around COVID-19 and provide updates as they relate to the bank on our website and on our social media channels which include:
From more about Webster Five's response plan, read this letter from President/CEO, Don Doyle.
We're prepared and here for you
As the situation related to COVID-19 develops, Webster Five is continuing to monitor national and local updates to ensure that we as an organization are as prepared as possible. Nothing is more important to us than the health of our employees and customers, and we will continue to take steps to minimize health risks to our team, customers, and our community.  You can rest assured that your funds are safe and secure with us and we will continue to provide reliable access to the important services and solutions you count on.
Learn more from the CDC about the Coronavirus (COVID-19) and ways you can help keep you and your family safe: https://www.cdc.gov/coronavirus/2019-ncov/index.html
Please contact us at 800-696-9401 if you have any questions or concerns. We are here to help!