Log in
For personal banking on your mobile device, please download our app from the page below.
Personal Banking
For business banking on your mobile device, please download our app from the page below.
Business Banking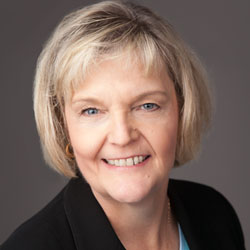 A 25-year veteran of Webster Five, Ann originates and underwrites commercial loans for our business customers and provides expertise in commercial real estate loans. Whether you need a loan for acquisition, refinancing or construction of commercial property, Ann is our go-to lender. Ann's focus includes business development, portfolio management and cross-selling. With over 35 years in business lending and the depth of her experience, she also provides guidance to other business lenders.
Prior to joining Webster Five in 1996, Ann was a business lender at Mechanics Bank in Worcester. She earned an associate degree in accounting from Quinsigamond Community College and also attended UMass/Amherst and Assumption College. Ann completed a two-year program at the Mass Bankers Association's New England School for Financial Studies, as well as RMA's Loan Officers Resident Seminar.
Ann talks about her role in the bank and life outside the bank.
What are you passionate about in your role? I take pride in building long-term relationships with my customers. This enables me to understand their businesses and meet their financing needs in a timely manner. My referral sources have told me that they keep coming back to me because I "get the deals done." I have a genuine concern for achieving the best outcome for my customers. Sometimes that means saving them money. Sometimes it means having them take a long, hard look at what they're planning to do.
What are some of your hobbies and interests? Golfing, reading and spending time with family and friends.
Are you involved in any community causes or organizations? I am a member of Builders and Remodelers Association of Central MA, and I also serve on the Worcester Regional Chamber of Commerce Golf Tournament.
Can you tell us a fun fact about yourself? In high school, I was a three-sport athlete all four years. I served as a team captain in all three sports and have been inducted into my high school's Athletic Hall of Fame.