Log in
For personal banking on your mobile device, please download our app from the page below.
Personal Banking
For business banking on your mobile device, please download our app from the page below.
Business Banking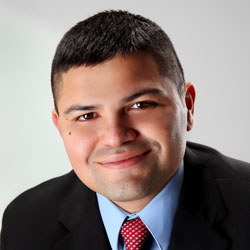 Alex brings a new perspective to the Business Lending team. As a result of spending 10 years of his career as a Branch Manager, he demonstrates a high level of attentiveness and responsiveness to his customers. As a Business Lending Officer, Alex provides businesses with credit solutions to improve cash conversion cycles, financing to expand or purchase equipment, and financing to assist in the acquisition of commercial real estate and investment properties. He blends his experience with his expertise in commercial real estate, small businesses, and commercial lines of credit to create a hassle-free experience for his customers. He began his career at Morgan Stanley in 2004, working as a Financial Advisor, before moving into retail banking and then joining Webster Five in 2009. Alex is fluent in Spanish, holds a BA in Business Management from Clark University and an MBA in Finance and Accounting from Nichols College.
Alex talks about his role in the bank and life outside the bank.
What are you passionate about in your role? I strive to develop long-term partnerships with my customers, and to become a trusted advisor and resource to them as they develop and grow their businesses.
What are some of your hobbies and interests? I enjoy golfing, camping, running, and spending time with my family and our dog, Daisy.
Are you involved with any community causes or organizations? I have volunteered for a number of financial and business organizations. Currently, I am a member of the Webster Square Business Association, and an Ambassador with the Worcester Chamber of Commerce. In August, my wife and I will be traveling to Columbus, Ohio, to participate in the annual Pelotonia ride. We will be biking 50 miles and fundraising for cancer research.
Can you tell us a fun fact about yourself? Several years ago, I completed my goal of running the Providence Marathon. I have also completed a half marathon, three marathon relay races, and many other shorter races.