Personal Loans
College Finances: Dorm Vs. Living Off Campus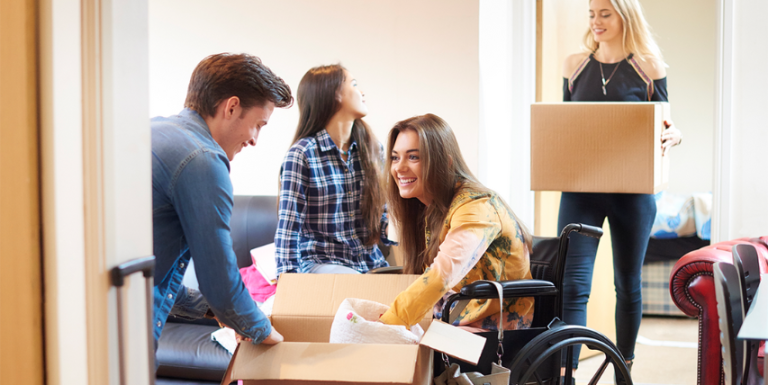 Taking classes isn't the only thing that costs money when you're in college. There are also living expenses, whether it's traditional room and board that covers a dorm room and meal plan, or paying the costs of living independently in an apartment and cooking for yourself.
If you have financial aid loans, including federal loans and packages provided by the school you are attending, the money you borrow can be used to cover what are considered Cost of Attendance (C0A). This includes room and board on campus, but also off campus housing and other living expenses, including food and transportation.
While these costs will be covered by loans, the important thing to remember is that you should never borrow more financial aid than you absolutely need. It's always best to keep the amount you borrow to a minimum. After all, you'll be responsible for paying that money back once you graduate.
Comparing living costs
Cost of living varies tremendously based on where in the country your school is located. In large cities where renting even a tiny apartment is expensive, it may be much cheaper to choose to live in a dorm. However, if you're attending school in a less urban area, rent may be cheaper than paying to live on campus. These wide variations in cost ripple across all living expenses, including transportation, food, and utilities.
While local prices and the specific room and board fees at the school you attend will affect the actual numbers, here are a few points of comparison for basic expenses:
| Dorm | Apartment |
| --- | --- |
| • Utilities paid for | • Pay for your own utilities |
| • Internet paid for | • Pay for internet |
| • Basic cleaning covered | • Pay for cleaning supplies |
| • Meal plan with unlimited food | • Pay for your own groceries or meals out |
| • On campus | • Transportation may be needed |
Living at home
If you're going to college within commuting distance of home, living with your family while you attend school can be a huge money saver. While it may not be your first choice, the amount of money you'll save on living expenses over the course of your college career can easily be $50,000 or more.
Living with a roommate
There's no question that sharing the cost of rent with a roommate can save you money. When you add in the amounts you can save by splitting the expense of utilities, internet, and groceries, the monthly savings can be significant. But – and this is a big but – this only holds true if your roommate is responsible about paying his or her share. If your roommate won't, or can't, pay what they owe on time, that can make it a difficult or impossible financial situation for you. Make sure you are confident that your potential roommate will be a help and not a liability.
A mixed approach
The living option you choose doesn't have to be the same for all of the years that you attend college. In fact, some schools require that you live on campus for your freshman year. Living in a dorm can make it easier to immerse yourself in the experience of attending college and to take advantage of everything happening on campus.
But that doesn't mean that you can't switch to off-campus housing after the first year. Or, if you are finding yourself struggling to manage your finances, or you'd like to be able to take less in financial aid, you consider moving back home or in with a relative, if proximity to campus makes that possible.
See Related Posts
popular articles
Categories
Search With Tags